Roofing Services in Greater Roanoke
We specialize in roof repair & replacement in Salem, Roanoke, Bedford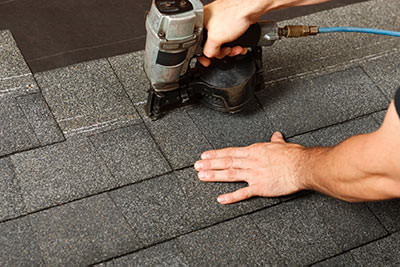 A leaky roof or damaged shingles are typically the most obvious signs of roof damage. A professional roofer can help identify the areas of your roof that need attention and determine the best plan of action.
Everyone knows the roof of their house is important, but it's easy to forget just how important until something goes wrong. Don't wait until there's a roof leak, torn shingles, or other damage to think about the condition of your roof.
Even when there's no evidence of roofing problems, it's smart to have your roof inspected every year by an experienced roofing contractor.
Another time to schedule a roof inspection is after a severe storm. By taking care of basic roof maintenance and making minor roof repairs as required, you can avoid roof leaks that can damage your home and ruin your possessions.
Whether you are looking to fix a damaged roof, upgrade the look of your home with new roof installation, or replace missing or broken shingles, the expert team of roofers at All-In-One Home Solutions of Virginia can help. Our roofing services are available in and around the Greater Roanoke area.
Get a Free Roofing Estimate
Get My FREE Estimate
We only install the highest-quality roofing materials to ensure long-lasting results. Call us at 1-844-385-7881 or contact us online for a free roofing estimate!
Roof concerns go beyond the roofing material
When a roofing contractor evaluates the condition of your roof, the primary concern will be the roofing shingles or other finished roofing material. Before deciding whether roof repair or new roof installation is right for you, there are some other areas of the roof that should also be inspected.
Make sure that your roofer also inspects the following elements:
Gutters and downspouts. Basements can flood and exterior details can be damaged if gutters and downspouts don't move water off the roof and away from the foundation. Prevent this problem by making sure your gutters are free of clogs, your downspouts are connected securely, and any long gutter runs are pitched properly to minimize overflows.
Roof flashing. The roofing contractor should check the flashing around chimneys, vent stacks and skylights, as well as step and valley flashing.
Skylights. During a roof inspection, it's also smart to inspect the glazing seals between the skylight glass and the aluminum glazing bars. Leaks in these areas can often be repaired with special sealant.
Roof ventilation. Soffit vents and ridge vents rarely require maintenance or repair, but gable vents can give insects and rodents access to your attic if they are not properly screened. These vents may need to be inspected from inside your attic as well as from the house exterior.
Before and After
Before

After

Check out this roof coating that was done to restore the history in Fincastle.

Before

After

This customer in Blue Ridge had a slow leak coming into his home and couldn't figure out where it was coming from. We traced the problem back to his outdated skylight, and replaced it with a new Velux skylight, along with the surrounding boards and shingles, to insure a watertight seal that would prevent future leaking.

Before

After

Replaced shingle roof with metal roof in Vinton

Before

After

This customer contacted us because her bathroom had no windows, giving her no natural light. We installed this skylight above her shower to brighten up the room and lower her electricity costs!

Before

After

These homeowners purchased this home that had 6 skylights in it but soon discovered that most of them were leaking from a faulty install! We replaced all 6 skylights so now they can utilize these beautiful features of their new home without worries of interior damage!

Before

After

This customer had a leak coming into their home and could not find the source. To the naked eye, the roof appeared to be in decent condition. However, the roof on this addition to the home had been improperly installed. We removed the non-approved shingle application on this low-sloped roof addition, which was causing multiple leaks in the home due to the low pitch of the roofing structure. We installed a fully adhered EPDM roofing membrane which is specifically designed for low slope applications such as this to prevent this customer from experiencing future leaks.

Before

After

This customer had poor experiences with contractors in the past, but we were able to provide her with a positive roofing experience! She had been having leaking issues with her roof on and off for the past 15 years. We replaced her old roof and damaged OSB with a new CertainTeed Landmark architectural roof in Cobblestone Gray.

Before

After

Lightning struck the roof of a house causing a hole. Repaired roof, reinstalled shingles to match, and reinstalled vent.

Before

After

We replaced the roof on this house in Grandin Village with CertainTeed Landmark Pro Designer Architectural shingles in Weathered Wood. The customer called in because she noticed plaster flaking off the ceiling in her home and knew her roof was about 15 years old.

Before

After

We replaced the roof, siding and gutters on this home in the Grandin area to give it a fresh new look! The roof on this house was 15 years old and had multiple leaks. The trusses supporting the roof were damaged, and all required replacement in order to preserve the integrity of the home. We did a full roof replacement and installed CertainTeed Landmark Pro Architectural shingles in Charcoal. The gutters were old and rusted, and failing to serve their purpose. We installed all new 5" seamless aluminum gutters and downspouts with gutter guards to properly direct water away from the home. We also completed a full siding replacement with CertainTeed Cedar Impressions Double 7" Straight Edge Perfection Shingles.

Before

After

Full roof replacement with Certainteed Landmark Shingles.

Before

After

This customer had an active leak coming in around their fireplace, so we replaced their old chimney cap with a beautiful new copper chimney cap.

Before

After

This customer noticed water spots in their attic around their chimney. After contacting us to take a look, we discovered the flashing on the chimney had deteiorated and needed to be replaced.

Before

After

This customer was experiencing leaking because their roof had not been properly installed. We replaced the roof and performed a woven valley shingle installation which will help to prevent ice and show build-up and decrease the risk of shingle damage due to high winds.

Before

After

This customer contacted us after purchasing an older home, with no idea how old the roof was. She wasn't having any leaks or issues, yet, but wanted to be proactive as she knew it was an older roof and wanted to be safe from unexpected damages in the future. We replaced her old roof with CertainTeed Landmark shingles in Weathered Wood.

Before

After

We were contacted by this customer after they discovered some water damage in their attic and found their roof to be missing some shingles. After further investigation, they discovered their roof was over 30 years old! We removed the old roof and replaced it with a CertainTeed Landmark architectural shingles in Colonial Slate.

Before

After

This customer contacted us after they noticed a leak coming in around their brick chimney. We removed the old flashing and surrounding shingles, installed new flashing with the flashing return masonry cut into chimney, and installed new shingles to create a watertight seal and prevent further leaking issues.

Before

After

All-In-One re-pointed this chimney for a customer to repair and fix future leaks from coming inside their home.

Before

After

Masonry repair of leaking chimney.

Before

After

Full roof replacement project! The homeowner wanted to stick with similar shingles but we offer a wide variety of roofing choices!
A new roof gives your house a new look
The functional condition of your roof is obviously your first priority. There are various reasons for a new roof, but many homeowners elect to have new roofing installed before the old roofing wears out, simply because a new roof can really upgrade a home's appearance. As experienced, professional Virginia roofing contractors, we can help you decide if roof replacement or installation makes sense for your needs and budget.
If you are considering a roof replacement, there are some exciting new roofing materials available – like composite shingles that look like old-fashioned roofing slates but are made from recycled rubber. Modern asphalt-fiberglass shingles have never looked better – especially the architectural grades that show off extra depth and texture.
Start by identifying your roofing needs
Over time, all roofs wear out and will eventually need to be replaced. If you wait too long to repair or replace the roof, you can end up with leaks and expensive damage. On the other hand, replacing the roof too soon is a waste of money. It's important to be aware of the common roofing problems and which ones should be dealt with right away.
The professionals at All-In-One Home Solutions can assess the condition of your roof and determine any early signs of roof failure. Contact us today for a free estimate in VA, including Greater Roanoke and surrounding areas.
Looking for a price? Get a no cost, no obligation free estimate.