Quality Replacement Windows Installed in Greater Roanoke
We can help improve the look, comfort & value of your home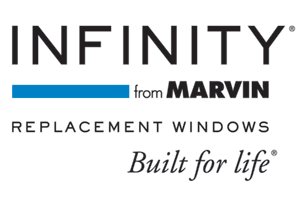 We are proud that Infinity by Marvin windows are manufactured in our hometown of Roanoke, Virginia!
All-In-One Home Solutions installs quality, maintenance-free replacement windows to fit every style and budget. We offer only the highest-quality products from the nation's leading manufacturers. Our experts will help you choose the right type of windows to solve all your needs. Whether you're looking for a new look, improved energy efficiency and comfort, or a low-maintenance exterior, you can trust our window installation professionals to provide the results you expect with minimum hassle.
If not replaced properly, you can experience problems you have already dealt with in the past. We recognize the importance in replacing windows the right way, so that they last you a lifetime.
If your windows are out-of-date or were improperly installed, we can replace them with windows that are beautiful, energy-efficient and long-lasting. Contact us today for a free estimate in Salem, Roanoke, Bedford and nearby Virginia!
Before and After
Before

After

In addition to a beautiful siding replacement that the All-In-One Home Solutions team conducted for this home in Vinton, we also replaced their backdoor leading to the home. A brand new door and wrapping for the threshold was much needed and is ready to protect this home for years to come!

Before

After

All-In-One Installed 20 new Kingston replacement windows on this home in Roanoke. The windows were the original painted windows and All-In-One updated them with new energy efficient replacement windows. Also, you can't ignore the increased curb appeal with these new sleek windows!

Before

After

Window replacements on a brick home.
Products
Marvin Windows and Doors has been an industry leading manufacturer of quality products or over 70 years, providing a complete line of windows and doors. The family owned company is dedicated to enhancing their environmentally sustainable business practice as well as using their innovation to set industry standards. Marvin manufacturers windows and doors in a wide variety of styles and materials, and they are constantly perfecting their designs and manufacturing process to continue to provide the highest quality windows and doors available.
Infinity Windows by Marvin

The Infinity by Marvin line was established in 2002 when Marvin recognized an opportunity to offer high quality fiberglass replacement windows and doors professionally installed for discerning homeowners. Infinity replacement windows are designed to replicate the look of traditional wood windows while providing modern features.
Benefits of Infinity windows:
Ultrex material is exceptionally strong and durable
Virtually maintenance free
Superior resistance to discoloring, scratching, and denting
Replicates appearance of traditional wood windows
Long term stability reduces risk of seal failures and air leakage
Fiberglass has a 38% longer useful life expectancy than vinyl
Low-E glazing can reduce your heating and cooling bills by up to 30%
Proper window replacement can result in several benefits for your home
Energy savings: During cold winters, properly-insulated windows can keep your home at a comfortable temperature and reduce your heating expenditure.
Aesthetics: Beautiful, new windows can add to the appearance of your home on the inside and outside. Getting the look you want is important, which is why we offer a variety of styles and materials.
Easy to maintain: The specific products we use allow your windows to be easy to clean and take care of. Materials such as fiberglass, vinyl and aluminum are durable and maintenance-free.
Home value: By replacing old windows in your home, you can increase its value when it comes time to sell it. Replacement windows make a huge difference in appearance and stability.
Consider energy efficient options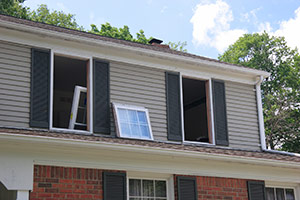 Upgrading your windows will improve your home's efficiency and comfort.
While the material of the window frame makes a difference, the energy efficiency of your replacement windows is mostly determined by the glass that is used.
Low-emissive, or Low-E window glass is manufactured with an invisible metal or metallic oxide coating to create a surface that reflects heat, while allowing light to pass through. Low-E windows are proven to increase energy efficiency, decrease fading of fabrics, and increase the overall comfort in your home.
Argon filled glass is another option. Argon is a non-toxic, odorless gas that is used in glass windows to prevent condensation and frost from forming on the window and provide improved soundproofing. Argon gas is filled between the panes of glass in a sealed unit to increase energy efficiency.
All ENERGY STAR windows feature a label with energy performance ratings from the National Fenestration Rating Council (NFRC). The label tells homeowners and contractors about how much heat and light travels through the windows through the U-value, solar heat gain coefficient, and visible transmittance of the windows.
Window materials and styles
Vinyl windows
Aluminum windows
Wood windows
Fiberglass windows
Double-hung windows
Casement windows
Sliding windows
Bay & bow windows
Awning windows
Picture windows
Get beautiful, affordable replacement windows today!
Replacement windows can give your home the look and comfort you need and provide potential savings on your energy bills. Proper window replacement can also drastically increase the value of your home. Get started with a free estimate!
All-In-One Home Solutions is Greater Roanoke's trusted window replacement company. We service most areas in the state of Virginia, including Salem, Roanoke, Bedford and even Rocky Mount, Vinton, Moneta, Troutville, Boones Mill, Cave Spring, Blue Ridge, and many more.
Looking for a price? Get a no cost, no obligation free estimate.